There's so many styles of shoes out there, so should one style just be categorized as platform? I don't think so. Personally, I include many styles:
• high heels
• mary janes
• wedges
• creepers


Broken ankles!
They're all good and so long as they have at least 1/2″ at the sole they qualify for me! Gone are the days of the stereotypical women's platform shoe where you must've been pretty much guaranteed to break your ankle. I'm talking about when platforms became infamous, back in the 70's. For a history of the platform heel go check out my post here.
But of course there's also the image of the teenage goth teetering on 4″+ platforms. I've never gone above 2.5″ in a platform but that's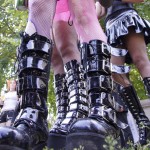 just personal preference. There's some fabulous goth platform shoes out there and maybe had I followed this style I would've had many a pair. But you shouldn't feel you need to be a goth to wear them either. If you like the style go for it! Be prepared to be stared at though… but remember, some of us are actually admiring your shoes and wishing we had the courage to wear them out in public!
A pedicure is sometimes necessary!
If you find your feet in need of some loving care and attention after years of wearing high heels and platform, go and check out my review, are pedicures good for your feet?
I hope you enjoyed this post. If you have questions or comments please feel free to enter them below. Thanks for reading!
What Qualifies as Women's Platform Shoes?