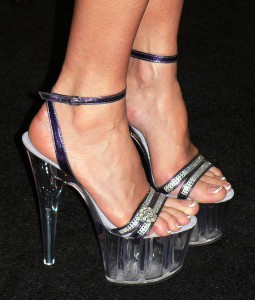 I'd be lying if I said wearing high heels has never caused me pain and that somehow I was born with feet that magically took to wearing them with ease. So why do we do it? I think it's a personal thing. For me, there's such an attraction to the styles and designs out there and I know instantly when I see an amazing pair of shoes that I just have to have them and, yes, 9 times out of 10 it's got a platform! Once you settle on a style you love that's when you know what to stay well away from. I avoid pointy stiletto shoes and have done for years as they cause me so much pain and I don't want to end up with bunions, thank you very much!
Comfort over style?
As I get older I must admit I find myself over-looking shoes that I would've normally jumped at because I know they're just going to cause me too much pain and I'll never wear them. I look more for comfort now and I know what styles work best for me but that doesn't always mean I have to compromise on style. For instance, I've recently discovered my love for the 'creeper' style of platform and there really are some amazing designs out there to choose from. Check out my most recent purchase of creepers here.
My top 12 tips
Over the years I've figured out some valuable tips and tricks to make the whole experience of wearing platform/high heel shoes less painful, I hope you find them helpful:
1. Get your feet measured

Our feet change over time so it's worth every year or so to get them re-sized (get the width checked as well not just the length). Wearing the wrong sized shoe can cause a lot of discomfort but by getting your feet measured it just might help rid you of a lot of pain.
2. Pedicures
Pedicures are the best way to keep your feet in tip-top condition. No matter how well you think you can take care of your own feet it's far easier for a professional to do – even clipping your own toenails can be a difficult procedure! A podiatrist will also be able to tell you what foot type you have and this can help with choosing the right shoe for you. For further info check out my review on pedicures.
3. Some shoes are just plain worth it and have to be broken in – perseverance is key!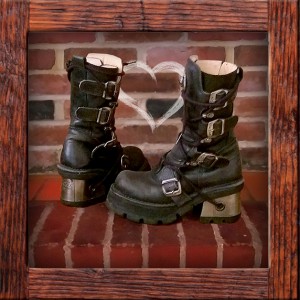 Normally, when I feel a shoe is worth the pain, it's really a matter of getting my feet used to it. It helps if it's a shoe I'm going to wear on a regular basis. First I'll find out where it rubs against my foot so I know where to put the band-aids. I'll usually wear the shoes every other day to break them in and in about 2 weeks no more band-aids are needed. Case in point, these biker boots of mine. They're my favorite pair of boots but they didn't start out that way, not comfort wise anyway. They're made of such a sturdy fabric – these puppies will survive the apocalypse! It took me longer than usual to 'break-in' as the fabric needed to soften as well. But I persevered and now they're my 'go-to' boot for comfort. They've kind of 'molded' into the shape of my feet – I love them!
4. Less is definitely NOT more!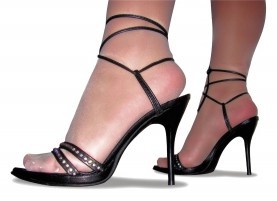 If you want to avoid sprains or constantly going over on your ankle (or worse, broken ankles) then avoid thin heels and by this I mean stilettos! The thicker the heel the more support/balance you have and the less likely you'll be to injure yourself.
5. Avoid thin soles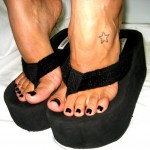 Ok, I admit I'm biased on this one… choose a platform sole! Seriously though, thin soles can cause a lot of pain on the ball of your foot as there's just not enough padding for it. The added comfort of the platform also helps alleviate some of the pressure when walking.
6. Let them breathe
I don't know about you but my feet aren't happy when they're stuck in shoes or boots for hours on end. So, whenever you can, kick off your shoes and let your feet breathe for a while, even if it's just for 10mins. Your feet will thank you for it!
7. Wear insoles

I swear by them as I find it makes the shoe more comfortable. Some shoes will come with added padding, like Dr Martens (go here to see my review), but most don't. You can also try using the silicone gel pads that fit snuggly under the ball of the foot. I sometime wear these with sandals, they're completely hidden and also help to keep the foot in place, so it doesn't slide forward too much, protecting you from those dreaded blisters.
8. Don't just admire them!

See those fabulous pair of heels you've had in your closet for years and only ever admired but never worn? Take them out for a spin if you've a special occasion where you know you're going to spend most of the time seated!
9. Walk normal!

If you feel like you're walking 'funny' in your shoes or not as you normally do then you're probably wearing a style you're not suited for and, yes, you will experience pain! Solution – don't wear them! Unless of course they fall in to category #3 and they really are worth it… so long as they don't deform your feet during the break-in period, then they're really not!
To be on the safe side, whenever you can, always carry a comfy pair of shoes just in case your feet are about to 'die' on you!
11. Add an extra 'skin'

Wear tights, socks, or shoe liners (ok, I know they're not the most glamorous looking item you can wear but they really do help prevent blisters). If not your feet are most likely going to suffer from blisters and very sore, red, angry marks from rubbing against your shoe (which just might turn in to sore, red, angry scabs!).
12. Relax!

Relax your shoulders! The higher your heels are you might find you feel more anxious when walking, especially if it's a much higher heel than normal. Make sure you keep your neck and shoulders relaxed as this will only cause pain in those areas as well as your feet! To do this roll your shoulders back and down, this helps for good posture too.
Thanks for reading! If you can add to this list I'd love to hear from you. Please leave a comment below.
How to Wear High Heels Without Pain – My Top 12 Tips